Co-published with permission of TerpTalk.
In conjunction with their support group, the Rebounders, the Maryland women's basketball team chose a unique way to celebrate Father's Day by holding the fifth edition of their unique fun(d)raiser - a mini-golf tournament at the Columbia Sports Park. The event took a one year hiatus when the NCAA changed its recruiting rules in 2014 as head coach Brenda Frese and her staff wanted to assess the impact of the new recruiting period. Still, if you have ever had any desire or inclination to meet and interact with the coach, her assistants and many of the players in the most casual atmosphere imaginable, this might be it.
While the choice of Father's day gives moms or daughters or sons the chance to give dad a gift much more unique than any tie (at least more than any tie he'd happily wear), Coach Frese had another reason for choosing this particular weekend. The basketball team hosted their camps this weekend and, while it led to having some tired players on the course, particularly for the morning session, she wanted to have as much of her roster available to participate as she could.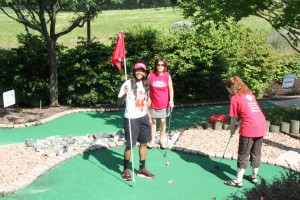 In order to accommodate as many golfers as possible, the day is split into to shotgun starts - beginning at 9:30 and 11:00 am. Stationed around the course for the early session were new assistant coach Bett Shelby (on hole #5), Malina Howards (#8), A'Lexus Harrison (#10), Aja Ellison (#12), Tierney Pfirman (#13) and Kiara Leslie (#15).  That group had a break from the sun but they were replaced by Shatori Walker-Kimbrough on hand before she leaves for the Pan-Am Games, Brene Moseley and incoming freshman Kiah (pronounced Kai-yah) Gillespie representing the players and Shay Robinson, Bryce McKey and Libby Ellis representing the staff.
The atmosphere is relaxed and accessible so if you'd like to talk with Malina about her plans to attend medical school or to Aja Ellison about dunking in the workout room or find out how the Connecticut Gatorade Player of the Year gently turned down Gino Auriemma to come to Maryland instead, this is the opportunity.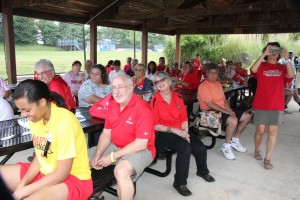 Perhaps even more fun is watching some of the players hack away at the ball in the 20 miles per hour slow pitch batting cages or romping like very young kids on the slide and jungle gym. And where, you wonder was the head coach in all of this mayhem? Well, Brenda along with husband Mark Thomas and twins Markus (older by 20 minutes) and Tyler (recovering from a tonsillectomy earlier in week), played through the second session before joining the golfers for lunch.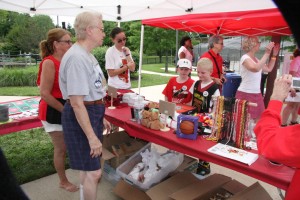 Of course, there's more going on than simply a box lunch from Jersey Mike's. There's music, a silent auction and raffles all hosted by Terrapins great Christy Winters-Scott. I mention the music because another highlight comes when a pair of volunteers try to collect enough cash to induce the coach into a public performance of the Cha-Cha Slide. This year Frese, was joined by Testudo, Gillespie, Harrison, Moseley and Walker-Kimbrough as well as coach Robinson and Winters-Scott's younger son Jordan in her TERPSichorean efforts.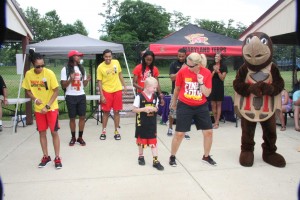 In all the day is a chance to contribute to one of Maryland's most successful flagship programs, while meeting players and coaches and having a fun sunny Sunday. And, who knows, maybe giving dad a Father's Day he'll appreciate and remember.