The GymTerps traveled to Texas expecting to face Brown, Utah State and Texas Women's University in a quad meet. Weather issues kept the Aggies from reaching the school located about 40 miles northwest of Dallas so Maryland's competition would be the Brown Bears and the host Pioneers. Of course, in one sense, the competition in NCAA gymnastics is internal rather than against the other squads in the gym. Sunday afternoon, the Terrapins excelled in both facets defeating TWU and Brown in the head to head competition and posting a season best 195.525 team score as they look to continue their ascent up the gymnastics rankings.
First rotation - Beam
Early in the season, opening a competition on the balance beam would have harbored the possibility of sending an entire meet into a downward spiral. Not so any longer. Now, when they hop up four feet onto the 16 feet five inch long and four inch wide apparatus, the GymTerps are a confident group and that confidence starts with Sarah Faller. The sophomore from Raleigh has been remarkably consistent all season. She scored a season low 9.700 at Iowa and a season high 9.750 in a home meet two weeks ago. In five other meets she recorded identical 9.725 scores. Sunday, she matched her season high.
Starting off well eases the pressure on the five gymnasts who follow and that comfort was on display as Dani Kram and Dominiquea Trotter followed with scores of 9.625 and 9.700 respectively. Shannon Skochko faltered to a 9.275 but Leah Slobodin, the sophomore who has returned from a season ending injury in 2014, lifted the Terps back up with a 9.700. Stephanie Giameo closed the rotation with her season high score 9.900. The team total of 48.675 was Maryland fourth consecutive meet over 48.500 and put the Terps in first  place after one roatation.
Second rotation - Floor
If Maryland's season on the beam has had the look of an up escalator, the floor exercise has been more of a roller coaster. The Terrapins have yet to match the heights of the season high that they recorded in the first meet of the year but they have rebounded well from the season low they registered two weeks ago in the quad meet that featured a rematch with George Washington.
Nelligan made a small change to the rotational order sending Trotter out first in place of Giameo who moved to the third slot. The freshman rewarded her coach with a respectable 9.650 a score likely held down a bit by her position opening the rotation. Skochko recovered nicely from her fall on the beam to put up a 9.750. Giameo, who had struggled mightily in the last two weeks on the floor put up a 9.800 - another season high. Karen Tang posted a 9.700 while younger sister Kathy would better her sibling by a tenth of a point. Ebony Walters closed out the rotation with a 9.650 and the Terps finished with a 48.750 but dropped to second place behind the host Pioneers.
Third rotation - Vault
Although they have been more consistent on the bars, the vault has been Maryland's best event all season. Three times before Sunday's meet the GymTerps had topped 49.000. Sunday, they passed that floor for a fourth time and matched the season high 49.150 they recorded at Iowa.
Karen Tang, who hadn't competed on the vault since the meet against Michigan nearly a month ago, showed a bit of rust but started the Terrapins off with a 9.550. Trotter followed by matching her personal best as a Terp putting up a 9.825. The meet was something of a homecoming for freshman Abbie Epperson who came to Maryland from Allen, Texas - a city about 30 miles northeast of Dallas. Epperson celebrated her return with a 9.850 that not only matched her best of the season but also made her the event champion for the day. The Terrapins' next three competitors Kathy Tang, Shannon Skochko and Katy Dodds all matched Trotter's 9.825.
After three rotations, the team scores looked like this: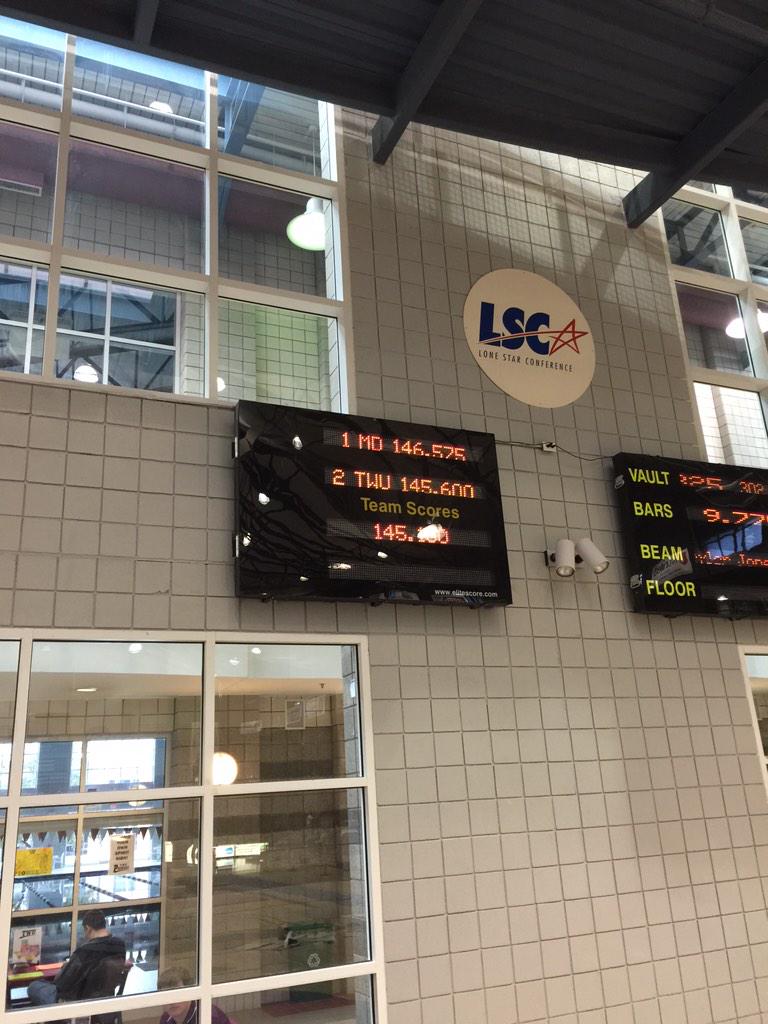 Fourth rotation - Bars
The uneven parallel bars has been the apparatus on which the GymTerps have been the most consistent. In five of the season's first eight competitions, they have scored 48.850. Here's what happened Sunday:
The leadoff spot belonged, as it has all season, to Sarah Faller. And, as she has all season, she got the Terps off to a strong and consistent start with a 9.750 that matched her season high. Dodds struggled missing on her release move and scored only a 9.100. When this happened in the season's first meet, the team suffered and put up a score of only 47.150. Sunday, they showed a new level of maturity and resilience that started with freshman Evelyn Nee who nearly matched Faller's score posting a 9.725.
Epperson continued her strong homecoming when she put together a solid combination of skills taking a small step on her dismount but scoring a 9.825. Kathy Tang had another good routine and put up a 9.750. Kathy's sister Karen, who last week equaled the Maryland record with a 9.925 nearly matched that score again. Her 9.900 was enough to have her join Epperson and Giameo as event champions, to lift the Terps to a score of 48.950 that matched their season's best, to finish the meet with a season high team total of 195.525 and to secure coach Brett Nelligan his 100th win as Maryland's head coach.
By my rough calculation, this score will allow the Terps to drop a 194.450 meet finish from their regional qualifying score (RQS). It would improve their RQS to 195.290 which, as of last week's rankings would move them into 24th place. They currently sit 31st and in these rankings, the important number is 36 as this is the cutoff point to qualify for the NCAA Tournament.
Maryland returns to Xfinity Center for their final home meet of the season on Sunday March 8. It will be senior day for six members of the GymTerps squad: All-Americans Katy Dodds and Stephanie Giameo will be joined by four other athletes who have meant a great deal to Maryland's gymnastics program helping it reach the NCAA Tournament every year of the Terrapins' careers. They are Dani Kram, Shannon Skochko, Karen Tang and Ebony Walters.
I will be in Hoffman Estates, IL covering the B1G women's basketball tournament so I'd like to urge as many of my readers as possible to act as my surrogates and come out to bid a proper farewell to these accomplished Maryland athletes.