First, a mea culpa. The events of this report resulted from a rather hasty and last minute decision. Hence, I neglected to take my camera so no photos accompany this story. (Yes, my mobile phone has a photo function but it's not a good one and I don't use it.)
When I was in college or probably even into my forties, this venture would have qualified as a cool road trip. At 61 and accompanied by my 74 year old friend Arnie, it feels more like two codgers (who fortunately haven't had to argue about when to make the next rest stop) grasping at a YOLO shot at their former glory. What's the trip, you ask?
Well, we left the Washington, D.C., area Thursday morning to drive about 930 miles (1500 kilometers) to reach Iowa City in time on Friday to watch the University of Maryland play the University of Iowa in volleyball. We'll stay overnight to watch the schools compete in field hockey and then (American) football. Thanks to Google Maps, here's some idea of the trip.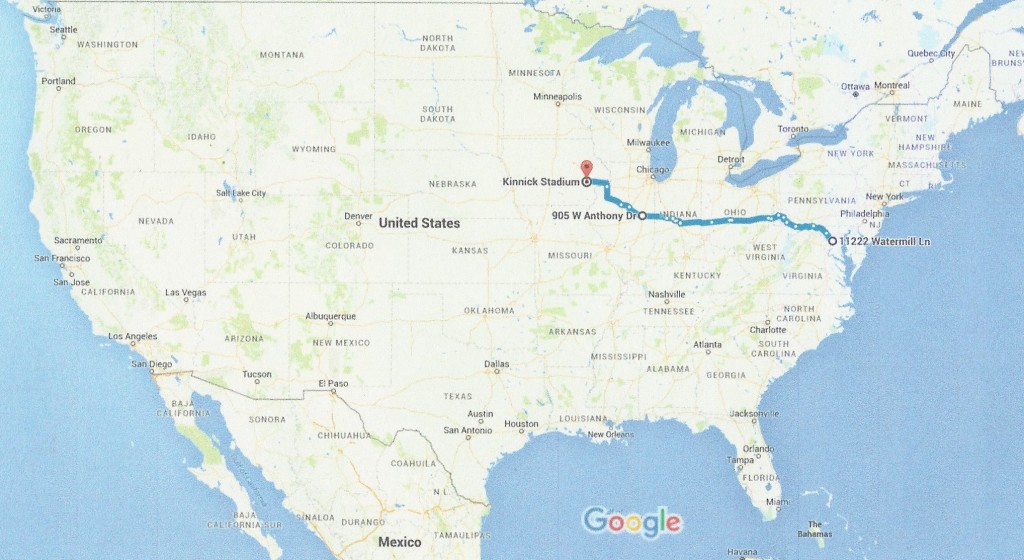 We'll leave after the football game Saturday, drive part way back to Maryland and finish up the long haul on Sunday. Fortunately, neither of us has to work on Monday.
Excepting an accident on I-70 West in Ohio (near Zanesville) that brought traffic to a standstill for about 20 minutes and several patches of road construction that periodically hindered our progress, Thursday's drive was uneventful. On our departure we set a goal to reach Champaign-Urbana Illinois Thursday and though it was later than we'd planned by an hour or hour and a half we checked into a Drury Inn at about 22:30 a time that was an hour later to our internal body clocks.
At Arnie's suggestion, I reached out to Coach Aird Friday morning and wrangled an invitation to share the pregame meal with the volleyball team. Leaving Champaign, we had between three- to four-hour to drive to reach Iowa City (or technically Coralville). We were able to check in early to stay at our "priced at what the market will bear" motel. (That is, the same room on a non-football weekend is less than half the cost we paid.) We unwound for a few hours before heading off to meet the team for the early pregame meal at their hotel.
The dinner was quite tasty and we both enjoyed sharing some time with the staff, players, and some other boosters. Adding to my enjoyment of the dinner was the opportunity to watch the final film review of Iowa's strengths and weaknesses and hear the plan of attack. On the other hand, having that knowledge frustrated me a bit when I watched the match.
Volleyball Friday
Our hotel was less than two miles from Carver-Hawkeye Arena the cavernous 15,400-seat venue for a number of Iowa's indoor sports including volleyball, and Arnie and I arrived with plenty of time to spare. We made our way down the steep stairs to find seats behind the Maryland's first set bench where we joined the family members of some of the team and a small handful of other Maryland supporters. (Please imagine a photo here of the sign outside Perkins Restaurant and Bakery that read "Go Hawkeyes, beat the Maryland".)
Midway through the first set, a contingent of football players came into the building to cheer on their fellow Terrapins. They were followed in short order by the field hockey team - many of whom were dressed in costume in recognition of the (at the time) impending Halloween holiday. They added some much needed energy as the crowd of just over 1,000 seemed rather dwarfed by the arena.
The potential for a Maryland win looked rather bleak at the beginning of the match. The Terps looked tense and gave away too many points on unforced errors. While the squad seemed to settle in as the set wore on, the early hole was too deep and the home team captured the set by a relatively comfortable 25-19 final score.
Now, my volleyball knowledge has increased over the years but I readily admit that much of the film review I saw went by far too quickly for me to grasp in my limited scope and understanding. However, Coach pointed out what a poker player would call a "tell" from one of Iowa's players. That is, when this player took a certain action, Iowa's attack was always the same. This knowledge created the frustration I mentioned above.
Although the coach had prepared them, Maryland consistently failed to react as they should have and Iowa scored regularly from this play. I want to add that this "tell" was so apparent that I could spot it from the stands and was often tempted to call out what how the team should have reacted but I didn't and, for the most part, the team didn't either. (Because this behavior is so obvious, I think that every coach in the league has it in their scouting report but it's information that came to me in a situation that's not normally public so I held and continue to hold my peace.)
In spite of this, the Terps got our weekend off to a good start when they went on to take the final three sets by scores of 25-20, 25-22 and 25-23 and record their second consecutive win and second conference win of the season. I couldn't help but think that better execution would have resulted in a more comfortable win.
After the match, I chatted with the coach and saw the team off on the bus as they prepared to fly off to Lincoln for a Saturday match against the highly ranked Nebraska Cornhuskers. Maryland's freshman libero, Kelsey Wicinski, who's from Geneva, IL, had the largest contingent of family and friends in attendance. Kelsey got a great surprise when her mom reunited Kelsey for a few minutes with her dog Ace. Kelsey cried a bit. Ace didn't but he seemed equally excited and happy.
Field Hockey Saturday
Let me start by thanking "Kluginator" from Iowa's SB Nation blog Black Heart Gold Pants for his help and advice regarding parking and attending the field hockey and football games Saturday. Unfortunately, a rainstorm swept through Iowa City Friday night and into Saturday morning so we weren't able to park at the Finkbine Golf Course as he'd advised but there was a field across the street where we grabbed a spot.
We arrived quite early and I had time to engage some of the Iowa fans who had started their football tailgate at least four or five hours before kickoff. They were quite pleasant and offered me a beer but, while I have been known to imbibe a brew or two on occasion, 11:00 seemed a bit early to get started.
We had about about a three-quarter-mile mostly downhill walk to Grant Field for the field hockey game that started at noon. A light mist continued to fall but the temperature was near 50⁰ (F or 10⁰ C) making conditions quite tolerable. This was a game of some importance to Maryland and perhaps emotional importance to Iowa.
When the Terps defeated Indiana, they assured themselves of at least a share of the Big Ten championship. A win at Iowa would grant them a second consecutive undefeated league season and the outright title. For the Hawkeyes, it was senior day and a win would assure them of no worse than a .500 finish to their season. Iowa opened the game full of energy and outplayed Maryland from the opening minutes. The Terps, who might have been feeling the effects of the long trip, played a rather sluggish and uninspired first half. Nevertheless, Maryland took advantage of their lone opportunity, scoring on their first shot of the game about midway through the first half.
The 1-0 lead held up until Iowa, who continued to have the better of the run of play in the second half, scored the equalizer with about 18 minutes to play. The tie held up to the end of regulation creating the need for a 15 minute sudden victory overtime and giving rise to the lone situation that could make us arrive at Kinnick Stadium after the start of the football game. Maryland was much the aggressor in the first overtime generating five penalty corners and five shots - three of which required saves by Iowa's goalie. The Terps still weren't able to find the cage and only a special play by Maryland's freshman goalie when she faced down two counterattacking Hawkeyes preserved the tie. That effort pushed the game to a second overtime and further diminished our chance of getting to football for kickoff.
Maryland picked up the game winning goal just about a minute and a half into the second overtime and the Terps had their outright title. I congratulated some of the players as they came off the field and Arnie, even more exuberant from the weekend's second win, hopped on the bus and gave a hearty "Go Terps!" cheer.
Football
We retraced our steps toward the car leaving a bit over a mile more to walk to the football stadium. As we walked mostly uphill along Melrose Avenue, we encountered a group of four other Maryland fans who had opted for a similar weekend to ours - attending volleyball Friday night and field hockey early Saturday before moving on to the football game. They, however, had the good sense to fly rather than making a pair of 16 hour drives in a four day period.
Fortunately, a rainstorm swept through Iowa City Friday night and into Saturday morning and by the time of the scheduled kickoff the rain had passed and we would even have a few minutes of sunshine during the contest.
We went into Kinnick Stadium from the main gate area on the Melrose Avenue side and, of course, the seats I'd bought were on the opposite side of the building - about as far from our entry point as they could have been. However, perhaps because of a television delay from an earlier game, our game hadn't yet started. We walked around the stadium and, had we not misread the signs and gone to the wrong section, would have seen the kickoff. That play occurred while we were in the concourse to walk to our proper seats.
The Stadium opened in 1929 as Iowa Stadium and had a capacity of 53,000. It was renamed Kinnick Stadium in 1972 after Iowa Heisman Trophy winner Nile Kinnick, and expanded to its current capacity of 70,585 in 2006 and is currently the seventh largest stadium in the B1G. The age certainly shows through the concourse, which is largely a brick tunnel lined with concession stands selling a limited selection of stadium food. There is, however, a high-definition television above each (or nearly each) concession stand so you miss little of the action while standing in line.
Like Maryland's home stadium, the bowl is comprised of backless aluminum benches with each "seat" allotted a minimal amount of space. As one Iowan near me put it, "If you're sitting next to a big guy on a capacity day, you're going to feel squeezed."  In another fortunate turn of events, we had neither of those situations. The stadium was far short (about 8,000) of capacity, two of the empty seats were adjacent to ours, and none of the people near us were of the jumbo variety. Unlike Maryland's stadium, Kinnick Stadium has not one, not two, but three video boards including an extra large one at the south end of the field along Melrose Avenue so watching replays is easy. Also, unlike too many Maryland games, the fans are very involved. They stand and raise the decibel level for every big play. After each score, the spirit squad carries lettered flags to each corner of the field and I-O-W-A resounds around the stadium for several minutes.
Perhaps it's the nature of Iowans, perhaps it's because neither Maryland nor Iowa are geographic or historic rivals or perhaps it simply that the game was, as expected, relatively one sided, but we were able to engage in some good natured banter with the fans around us and never feel any real animosity. I was also able to educate the Iowans near me about Maryland football and its current disarray and they told me a few things about the Hawkeyes.
As for the game, the first half was more or less a disaster for Maryland and the Terps trailed 21-0 at intermission. They showed some fight in the second half dominating the time of possession in the third quarter before scoring early in the fourth to close the score to 21-7. When Iowa kicked a field goal to extend the lead to three scores with 11 minutes to play, Arnie and I bid farewell to our neighbors and decided to hit the road.
Just as we left the stadium, Desmond King intercepted a pass and returned it 88 yards for a touchdown that put the home team ahead 31-7. We missed that play as well as William Likely's kickoff return for a touchdown that brought the score to 31-15. Neither team would score again and by the time the final gun sounded, Arnie and I were about halfway to Davenport.
We stopped at the same hotel in Champaign and finished the drive on Sunday. I'm not sure I should admit this to Maryland fans but we stopped for dinner at a recently opened Greene Turtle Restaurant. I know this is fine but the part that might not be is the location: Morgantown, WV. We wrapped up the drive and Arnie dropped me off at my house at about 21:30 Sunday night.
I'm not sure I'd do it again, but it was a helluva lot of fun.
Story published courtesy of gruncleodd.com