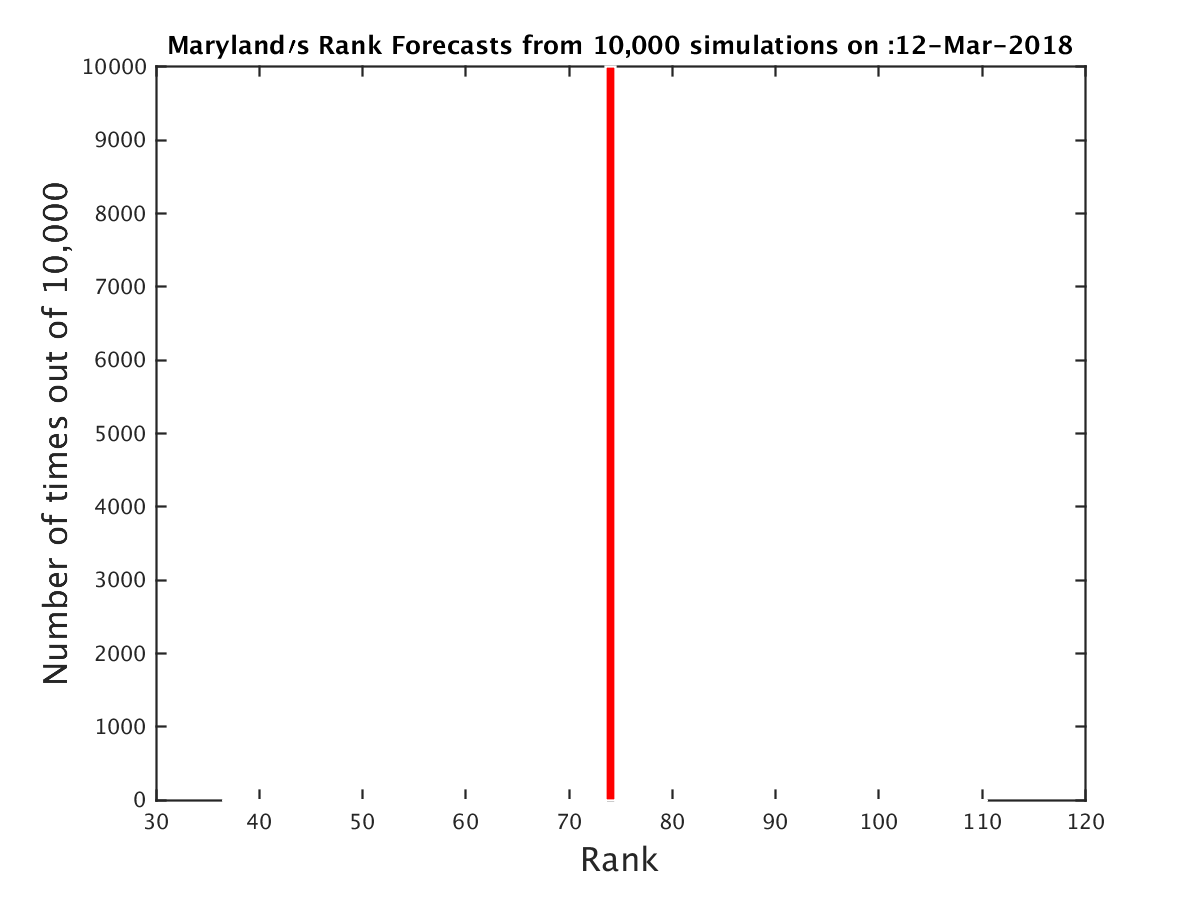 http://www.rpiforecast.com/teams/Maryland.html
According to the site, we'll most likely finish the regular season in the low 60s, but with a decent chance of ending up around either 50 or 70.
They think we'll finish 9-9, for an RPI of 64 heading into the ACCT. They give us a 1.49% chance of getting the autobid.
Here's what they think of our chances to end the regular season (currently 14-12)
| | | |
| --- | --- | --- |
| Final Record | Expected RPI | Probability |
| 18-12 | 42.5 | 5.36% |
| 17-13 | 52.5 | 25.38% |
| 16-14 | 65.2 | 41.06% |
| 15-15 | 77.3 | 25.33% |
| 14-16 | 87.8 | 2.86% |
Some other important numbers from http://www.collegerpi.com/subs/rpitrivia.html (Note that most of these numbers came from before there were 68 teams in the tournament):
Most losses to get an at-large is 14
Highest ranking team from the big 6 conferences to get left out is RPI #40
Four teams with RPIs in the 60s have made it (we won't if we're that low with as many losses as we have)
My takeaways:
If we win out, we're in very good position to make the NCAAT with an at-large bid. Winning one or two games in the ACCT would put us very close to the #40 mark, where big six teams are practically automatic. Winning three games would almost certainly guarantee us a spot (Winning four games in the ACCT give us the auto-bid).
If we finish 10-8, we've still got a chance for an auto-bid if we win 2 ACCT games, although it's extremely dicey. Winning two games would put us at 19-14 with an RPI in the mid-40s. The RPI number wouldn't kill us, but f they let us in with 14 losses, we'd tie the highest number of losses by a team to get a bid. Basically, we're praying for a very weak bubble plus tournament expansion to save us.
If we finish 10-8 and get three wins in the ACCT (i.e. lose in championship), it'd be very interesting. At that point, we'd probably have an RPI in the upper 30s, but we'd still have 14 losses. Either way, we'd make the record books (as either the highest big-six team left out or the most losses let in).
9-9 or lower, and we'd need to get the auto-bid. If we get two more losses in the regular season, our at-large chances are 100% dead.
RE NIT
Last year, there were at least 6 major conference teams that were ranked 4 or lower in the NIT. Stanford (73 RPI), St. Joes(76), FSU (81), Providence (85), St. John's (87), and Washington (91). Now last year doesn't guarantee this year, but right now, Maryland's RPI places it right in that mix. Even at 8-10 or 9-9, we'd still have a competitive profile. When we didn't make the NIT in Turgeon's first year, we were RPI #104.
I'm not saying that because I think the NIT is any sort of accomplishment. Missing the
NCAA tournament
would (will) be a disappointment this year (although my pre-season expectations were lower than a lot of folks on this board). That said, I'm getting sick and tired of seeing people toss around the "Are we even going to make the NIT?" question. Yes, we're going to make the NIT unless we completely collapse. No one is going to take solace in that, but please let's stop pretending this is the worst team in the history of Maryland basketball (or even the worst team in the last 5 years).