15. Maryland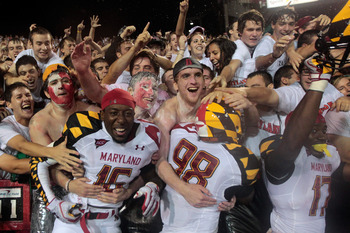 http://bleacherreport.com/articles/839497-maryland-football-analysis-after-week-one-win-over-miami
The Maryland Terrapins have a surprisingly excellent home field advantage.The student section does not even think about sitting down the entire game.
This group is not only loud, but on big defensive plays, they take their keys out and shake them at the opposing team.
The fans are never afraid to paint their faces and sometimes even dress up as a Terrapin. These students are quite a rowdy bunch to say the least.
http://bleacherreport.com/articles/1015071-ranking-the-5-toughest-college-football-stadiums?utm_source=outbrain&utm_medium=referral&utm_campaign=video#/articles/1206554-power-ranking-the-top-50-college-football-student-sections/
Other ACC/Notable schools in the Top 50:
#7 Virginia Tech
#10-Clemson
#13-North Carolina
#17-Navy
#19 FSU
#20 West Virginia
#22 NC State
#36 Georgia Tech
#43 UConn
Anything deemed inappropriate will be deleted by an admin or moderator with the power to do so. The views of the above FanPost do not represent the beliefs of Testudo Times or Testudo Times' authors, nor are they the work of them.