I found this article a few minutes ago.  Two Terp targets are discussed (Phillip Nolan and Charles Mitchell).  Jakarr Sampson is also discussed.  I would love to land one of these players. Sampson would be awesome, although I have never heard MD and him in the same sentance, except for once when the staff went and visited McGary.  Nolan seems to be a better target then we might have originally thought.  The article makes it sound that he could break the top 100 rankings and that if he adds weight/muscle he could be a really tough matchup.
 he is a talent that could easily work his way into the ESPNU 100 before year's end. As he fills out, he will be a handful to contain.
http://insider.espn.go.com/college-sports/recruiting/basketball/mens/story/_/id/7233092/radar-player-watch
I dont really have anything else to discuss at the moment.  Enjoy the article. 
Forgot its an insider's article.  Here is the write-up, as it pertains to Terp prospects. 
What uncommitted player outside the ESPNU 100 are you really paying attention to?
Paul Biancardi: Phillip Nolan (Milwaukee/St. Benedicts) combines the type of size (6-10, 205 pounds) and athleticism that high-major programs covet. He is a long, skilled post player that can effectively play three positions and will be an immediate asset at whatever school he chooses to attend. He has a long list of suitors from almost every major conference in the country and he is a talent that could easily work his way into the ESPNU 100 before year's end. As he fills out, he will be a handful to contain. He is considering Clemson, Oregon, Marquette, Maryland and Baylor at this time.
[+] Enlarge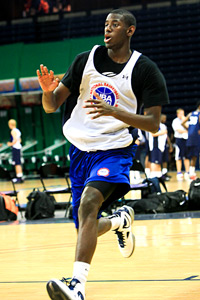 Davide De Pas/ESPN.comJakarr Sampson was the No. 32 overall player in the 2011 class.
Adam Finkelstein: When Jakarr Sampson (Akron, Ohio/Brewster Academy) failed to meet the NCAA Eligibility Center's criteria for incoming freshman, he opted to return to Brewster Academy for a post-graduate year and re-open his recruitment after committing to St. John's a year earlier. While his status as a post-graduate leaves him outside of the ESPNU 100, his 96 rating equates him to players ranked between No. 22 and No. 32 in the Class of 2012. Overall, there are only a handful of better available prospects in the country. He's had a plethora of interest since joining the Class of 2012 but hasn't given many hints as to his mindset heading into the season. A high-level athlete with great length and evolving combo-forward skills, his decision will be a big one in the second half of the year.
Mike LaPlante: Charles Mitchell (Marietta, Ga./Wheeler) is an intriguing prospect whose stock should continue to rise as post players continue to come off the board. Any concerns about his tendency to put on weight can be put to rest as he has changed his body, improved his conditioning and dropped some weight. He will be a great teammate and locker room guy that is unique in a Charles Barkley-type of way in that he is undersized, but can carve out position in the post and you can't get around him.